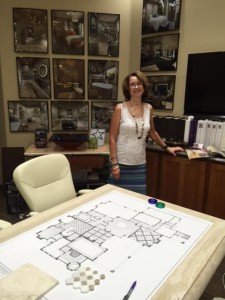 Debra May Himes, ASID, LEED AP has been practicing interior design in the Greater Phoenix Area and several parts of the United States since 1975. She has been fortunate to have received many awards for her work in residential design, commercial design, furniture and product design, and feels blessed to be working in a field she is so passionate about.

Debra is a native of Arizona and loves the strong and rugged Arizona desert, which is reflected in many of her designs. She enjoys exploring her clients design needs and delivering great design solutions for those special projects both for residential and commercial environments. On one of her projects, and contractor also working on the job exclaimed that Debra ha "nailed" what her clients expected. That objective is what Debra works for on each one of her projects.

Debra holds a Bachelor's degree in Interior Design, is NCIDQ Certified, is a LEED Accredited Professional, and is a Past President of the American Society of Interior Designers (ASID), Arizona North.




Biography

"Being a part of the building process – watching something wonderful develop that I helped to create is beyond joyful and exhilarating. It is truly a blessing to be a part of."

Debra May Himes, ASID, IIDA, LEED AP, has been leading the design community as an award-winning interior designer for over 30 years in the Phoenix Metropolitan area. Working throughout the United States, Debra's portfolio encompasses both residential and commercial projects.

As a professional designer, Debra strives to deliver unique ideas, problem-solving solutions, and something truly special for her client's projects. Debra's interior design style is elegant, but livable and emotionally compelling. Creating interior architectural details which provide for dramatic focal points is one of Debra's significant characteristics. Stunning entrances are designed specifically to make a statement and set the tone for an interior environment that interweaves materials and furnishings in a fashion that is contrasting yet complementary providing a very unique "wow" factor for her clients and their guests.

Debra's drive for fresh and exceptional furniture, while providing that truly custom touch for her clients inspired her to design her own collection of award-winning furniture pieces which now compose her Jonathan David™ furniture lines. Designed specifically for her clientele, Debra's Jonathan David pieces have been purchased by clients and designers across the country. (The Jonathan David™ furniture line was named after her two sons). Debra's efforts and dedication to design excellence has allowed for many opportunities for recognition. She has been published both nationally and locally, and has earned design awards for her creations, both locally and nationally. Recently, Debra received "Best of Show" at the 2010 ASID Design Excellence Awards for a residence she recently completed. "Jewels"™ by Debra May Himes (part of the Compositions line) was created for drapery hardware firm requesting a new idea for their line. "Jewels"™ by Debra May Himes has been recognized both locally and nationally, receiving and ADEX Platinum, awarded by the Design Journal for Design Excellence in 2006. This product can be found in many design and drapery showrooms throughout the nation.

With her many years of experience in the design community, Debra feels fortunate to have worked with so many wonderful architects, builders, clients, and sources. "Being a part of the building process – watching something wonderful develop that I helped to create is beyond joyful and exhilarating. It is truly a blessing to be a part of."

 Click here to view our online catalog.